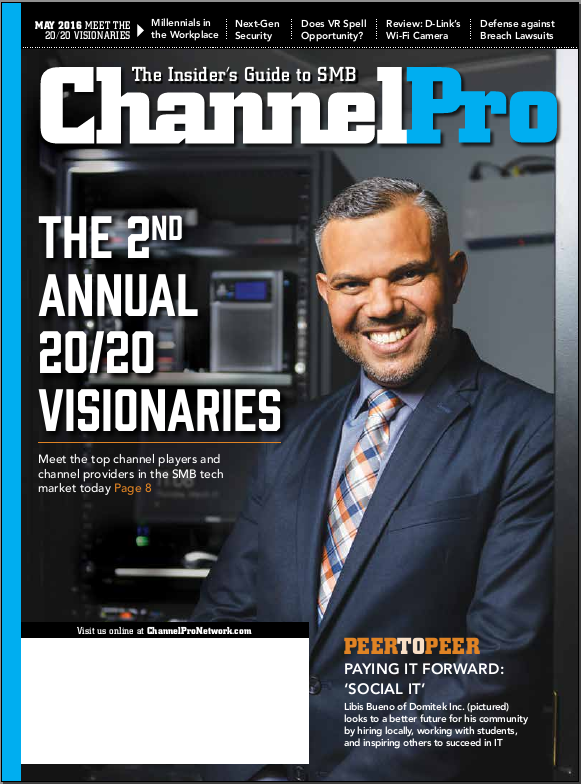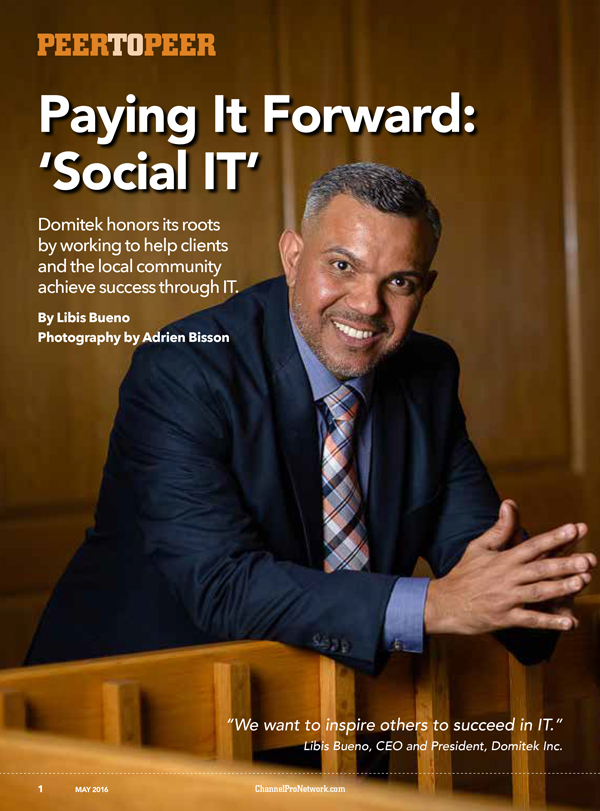 I feel humbled and honored to have been featured on the cover of the ChannelPro Magazine for the month of May.
This recognition is particularly exciting for us and special for me because it underscores our (Domitek) mission and focus to our clients, but equally important because of the impact we (the team at Domitek) are making in our community.
I've been reading this magazine for years and to be featured on it, is a dream come true. God is great!
---
GIVING BACK is integral to the mission of Domitek. It started with establishing our business in Worcester, a city in Central Massachusetts where my family settled after coming from the Dominican Republic in the 1960s. It continues today with our community outreach—hiring locally, working with students, urging our clients to hire the local unemployed, running contests in the middle schools, encouraging more Latinos and women to get involved in IT. It's not "social work" per se; call it "social IT."
I try to impress upon my kids to remember where we came from. It keeps you humble. I came here when I was 16, and our family was one of the first Dominican families in Worcester. My family started several businesses here. Although I had a turbulent teenage period, it helped make me the man I am today.
My 180-degree turnaround was inspired by my English as a Second Language (ESL) teacher in the Job Corps program I attended, who asked us, "Where do you see yourself five years from now?" That message didn't stick until I found myself on the streets, and recognized that my mother didn't bring me to this country to be a loser or end up in jail, so I began planning my future. I saw myself graduating from college, and that's what I did, getting a degree in computer science. I still guide my life by where I see myself in five years.
In college, I continued to look ahead, choosing the name for my eventual company. It is both a nod to my heritage and to my goal to "dominate technology." After working in various health IT positions, during which I traveled to 27 states implementing software as well as doing network administration (the highlight was getting to work at the Pentagon), the time was right to start Domitek in 2004.
Working out of my one-bedroom apartment in Worcester, I initially targeted the Latino community doing residential work. Since I already held numerous Microsoft certifications and had technical experience servicing the SMB space, I refocused Domitek to serve the small business market. As we grew we moved to an office, then a bigger office, then transitioned our customers to the managed services model. A Microsoft Solution Provider, we also partner with Datto for BDR, with iTopia for cloud, and with CoreDial for VoIP and unified communications. We expect strong growth in that sector, helping SMBs transition from old telephone technology to VoIP and integrating to Office 365.
I apply my mantra of "where do you see yourself in five years" to my clients as well, although it's more like two years as the technology is moving faster than people can adopt it. Right now Domitek is transitioning to a cloud service provider/ cloud broker model, and I think eventually the MSP model will be a hybrid.
Inspiring IT Success
Domitek's success is due to several factors. First and foremost, the grace of God. Second, staying persistent and focused on our goal of providing worryfree IT for SMBs. That means delivering consistency, reliability, and predictability, along with security, quality, and scalability. Third is building long-term relationships and trust with our clients. And last, but truly important, is hiring the right employees who will help us grow, and finding the right partners that will stay channel-focused.
We also want to inspire others to succeed in IT. In addition to hiring locally, Domitek has held several contests for seventh graders who are asked to write an essay about how technology can change lives. We donate laptops to the 10 winners at the start of school in September so they have the tools they need. We also offer co-op positions to students at Worcester Technical High School, and so far have hired one of them. And with nine colleges in the city, we have ongoing opportunities to work with many smart young people on a variety of efforts, such as the Quinsigamond Community College spelling bee.
In addition, I am a board member of Workforce Central, which provides employment services for Central Massachusetts. We are putting together a curriculum to get youths involved in programming and off the streets. At Domitek, we encourage clients and local business owners to hire from the unemployment pool, and pass along information on the resources available for training those employees.
While I did not always have a role model for pursuing IT, I hope Domitek can serve as a role model for the community in general, and the Latino community and women in particular, and provide an example of how technology can help both their lives and their businesses. Hopefully, more of them will see themselves in IT five years from now.
Libis Bueno
CEO and President, Domitek Inc.
---
FOUNDED 2004
LOCATION Worcester, Mass.
NUMBER OF EMPLOYEES 8
WEBSITE www.domitek.net
COMPANY FOCUS Domitek delivers affordable, scalable, worry-free IT solutions for SMBs so they can focus on what they do best, and increase both their efficiency and their bottom line.
FAVORITE PART OF MY JOB Finding the right solutions for our clients
LEAST FAVORITE PART Billing and managing people; I am not a micromanager.
WHAT PEOPLE WOULD BE SURPRISED TO KNOW ABOUT ME I'm the first Dominican and Hispanic business owner to receive the Worcester Regional Chamber of Commerce Small Business of the Year award, the BBB Torch Award, and to be inducted into the Boys and Girls Club of Worcester Hall of Fame. That makes me very proud to be able to put our community on the map.